Bali's typical soundtrack of construction sites and car horns has been replaced for 24 hours with birdsong and the lapping of waves as the island celebrates its annual day of silence.
To celebrate the Balinese New Year, known as Nyepi, the island's usually busy streets have fallen quiet with residents and tourists expected to remain indoors for a day of quiet self-reflection.
Reminiscent of recent lockdowns around the globe, and unlike any other New Year celebrations, the traditional start of the Balinese Saka calendar is welcomed with several days of island-wide rituals which centre around a day of silence.
To mark Nyepi, everything from the Ngurah Rai International Airport to local supermarkets and ATMs are closed. Lasting 24 hours from 6am on 22 March, island residents and visitors are expected to shun entertainment, work, travel and even artificial light. The pecalang, a type of traditional Balinese security, patrol the streets to ensure that everyone – including tourists – complies.
Balinese see Nyepi as a way to deter any returning evil spirits. To avoid attracting negative energy and embrace a purified start to the year, stay-at-home orders are put in place.
Tourists and digital nomads that rely on good wifi tend to leave for Bali's neighbouring islands during this time. However, many among those that remain embrace the festival.
"I feel really lucky that I get to experience this because it's a really beautiful day," said Lotus Vrijma, 29, a Dutch traveller in Ubud. "It's special to know that you're doing it with so many other people on this island."
"I was shocked at how 'turned off' the island really is," fellow traveller Jackie Colello, 26, explained. She was looking forward to a day of self-contemplation and meditation from her Canggu guesthouse.
While Indonesia is a majority Muslim country that will also mark the start of Ramadan on Wednesday, Bali's population is predominantly Hindu. The island largely practices a specific form of Balinese Hinduism that incorporates teachings from Buddhism as well as the worship of local deities. As a result, the island enjoys its own unique set of annual celebrations and festivities often featuring colourful parades and offerings.
While the day provides a special moment of respite for the populous island, the run-up to Nyepi has been far from peaceful. There were busy scenes and long waits at supermarkets as people raced to gather supplies. Phone providers confirmed that cell service would be limited and many ATMs went out of service before Nyepi started.
On the eve of the festival, Bali's communities held a parade to cleanse the island of evil spirits. Officially returning for its second year after pandemic restrictions were lifted, local groups had spent weeks constructing "Ogoh-Ogoh" effigies that were paraded through Bali's dark streets before being burned in dramatic ceremonies.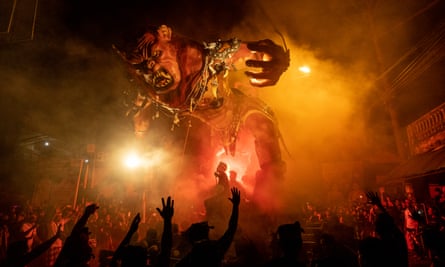 "I'm happy to have this slow day … in life, you need to have a pause," said Java native, Livia Ellen. After the raucous evening of festivities, like many others, Livia had cleared her work calendar to mark Nyepi from Uluwatu.