Key events
We are closing this blog now. Thanks a lot for following along.
A hybrid solar eclipse reached totality over Australia today.
In Exmouth, thousands of people from all over the world gathered to watch the partial eclipse slowly move across the sky until it completely blacked out the sun's light for 58 seconds.
The eclipse was called "otherworldly," "a unifying experience" and "one of the most exciting astronomical events on this planet" by eclipse-chasers. The dry red ground of a remote WA campsite became a melting pot of languages, ages, music, food and technologies – turning a solar viewing experience into a mismatch of Burning Man and Mad Max.
Across cloudier cities like Sydney and Melbourne, eclipse viewing was not so surreal (or was not possible at all). Nonetheless, across the country, people still looked to the sky with DIY sun catchers, hoping to see their reflection of a crescent sun nearby.
Had enough of seeing the crescent sun through shadows in trees and colanders today? No, you haven't:
Partial solar eclipse through a colander 11 AM #Perth #WA #SolarEclipse2023 pic.twitter.com/vxNOvbAQ6B

— Dr Deepti Ruth Azariah 💉x3 (@perthinent) April 20, 2023
Much of Twitter is interpreting today's solar eclipse as a symbol of the death of 25yo K-pop star Moon Bin – member of boy band Astro who was found unresponsive in his apartment yesterday.
"On April 19, Astro member Moon Bin unexpectedly left our world and became a star in the sky," said a statement posted in Korean early Thursday on Fantagio's official Twitter page. It did not provide any information about the cause of death.
'One of the most exciting astronomical events on this planet'
Catherine Qu is a science writer with a team of astronomical photographers and scientists who visited Exmouth in WA for the solar eclipse. She decided to skip the equipment and watch the totality with her bare eyes.
One hour before totality, while teams of people were setting up telescopes and goggles, Qu went on a walk in search of local birds.
"I found lots of birds – parrots, seagulls, pigeons," she says. "I wanted to see how they appear during the eclipse's maximum."
Near some bushes, Qu found pink parrots and watched the eclipse in their company.
"By the time the temperature fell, and everything got dark, they hid in the small grass, stopped walking, stayed silent."
When the light came out again after the totality, she says the parrots flew away.
Qu says two things made today's solar eclipse special.
First, it is a hybrid eclipse. "This means you can see both the annular and total eclipse at one time."
"That is the fun part," she says. "It is one of the most exciting astronomical events on this planet."
Second, after the eclipse's maximum, the eclipse's prominence (cloud of incandescent solar gas projecting above the sun's sphere and held in its corona of light) was "really huge".
"You could see, it brought people to tears," Qu says.
"The prominence is not always that big in past solar eclipses, so we didn't expect it."
In East Borneo Provence, Indonesia, the sun was left looking like a crescent moon:
And some more clouds …
Melbourne's solar eclipse through some clouds:
Photographer on the ground Trent Mitchell describes the sky becoming dimmer, shadows becoming sharper, and the atmosphere becoming stiller as the eclipse reached totality in Exmouth a few hours ago.
"Looking up at the sun and the moon combined was one of the most unbelievable things I've ever experienced in my life," he says.
"You could see the outer corona of light wrapping around the moon with your bare eyes. You could see the energy flaring out from the sun behind the moon."
"It was like nothing else I've ever experienced. It was otherworldly."
Mitchell describes it as being in "this path of alignment".
"Your place on earth at that moment, you feel really connected to everything, and that makes you feel super small."
Behind a thin veil of clouds in Canberra, the solar eclipse looks a little spooky:
Some more shots of eclipse-watchers from photographer Trent Mitchell: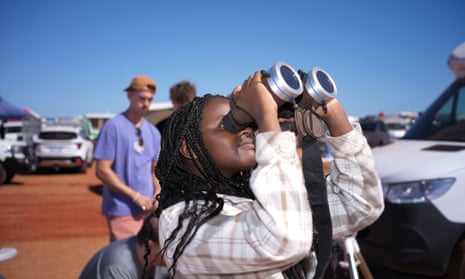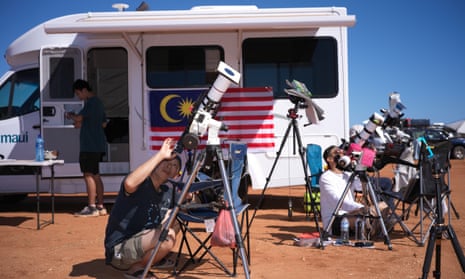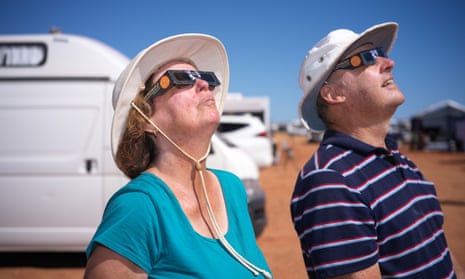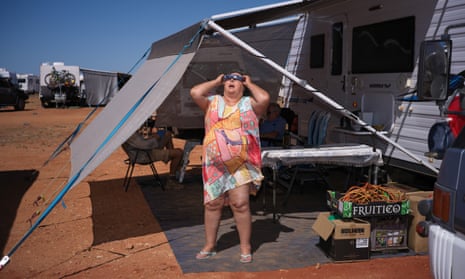 Dr Sabine Bellstedt from the University of Western Australia is at Exmouth. She describes the moment of totality to me as beyond surreal.
First, there was a very sudden darkening that had been slowly approaching for 15 minutes. People started quietening, the temperature plummeted and the wind stilled.
"It was amazing to feel everything calm down around us," she says.
As one minute turned to 30 seconds and then to 10 seconds, eclipse-watchers were overcome with bewilderment.
"I saw tears in eyes, goosebumps on arms."
"With only 58 seconds of totality, it felt like there was too much that one wanted to see."
From the eclipse itself, to the corona of light around it, then the whole sky where stars suddenly popped through, and the people on the ground gazing up in awe.
"It was too much to see in that short time," Bellstedt says. "It was definitely overwhelming."
As totality receded, everybody cheered.
"It was a unifying experience," Bellstedt says. "There were people with incredibly expensive video equipment, all the way through to people who arrived with nothing but solar glasses to look up at the sky."
"There were so many languages floating around."
"Linguistically, we couldn't all communicate. But young, old, Australian, not Australia, we all came together, and were so excited to see little crescent shaped shadows on the ground," Bellstedt says. "It was incredible."
Now half an hour out from the totality, Bellstedt says it feels like "languid relaxation after a total high".
"We are still marvelling at out own shadows," Bellstedt says. "If we just hold up our hands against the light, we get weird extra fingers protruding between them."
Weatherzone has collected some eclipse-related shots across Western Australia:
Watch the sky darken over waves of the Exmouth Gulf, as the solar eclipse reaches totality (in real time):
And in Perth, telescopes seem to do a comparable job to pinhole projections:
From Dandenong, Victoria, we've got a pinhole projection (successful through the clouds!).