Before the pandemic hit, Rahim worked as a boat operator transporting essential items between the islands of Indonesia. The casual job was enough to keep his wife and two children financially stable – until the borders closed, the tourists packed up and the work ran dry.
As the months dragged on, Rahim – who is using a pseudonym for privacy reasons – became desperate for a job. So when an acquaintance on his island offered him work in Cambodia, he took it.
But the job wasn't what he expected. He found himself held captive in a call centre, forced to scam foreigners, including Australians, out of thousands of dollars.
A few weeks ago, three people were sentenced to jail on the Indonesian island of Batam for trafficking Rahim into the job. The three traffickers, who worked from Batam city, sending workers abroad illegally, were sentenced to jail terms of between three and four years.
They were some of the first convictions for human trafficking related to scamming in Indonesia, according to the anti-slavery organisation International Justice Mission.
Human rights advocates say those convictions set a powerful precedent against a growing issue across the region that is also coming at a cost to Australians.
'They promised me US$700 a month'
When Rahim was recruited, he was told the job was to market cryptocurrency over platforms such as Facebook, WhatsApp and TikTok, build a relationship with the buyer and encourage them to buy as much as possible.
"I was interested to work in Cambodia because the employee said that I could make a lot of money working for them," Rahim tells Guardian Australia through a translator.
"It was an easy job, they said. They would provide me with a place to stay and three meals a day. They promised me US$700 [about A$1,000] a month if I joined them.
"I never understood what cryptocurrency was. I just understood I had to help sell it."
After arriving in Cambodia at the start of May last year, Rahim was taken to a compound with about 70 other people, he says. His passport was confiscated and he was taught how to scam victims online, tricking Australians, Europeans and Chinese into handing over their money.
Rahim's job was to garner the trust of victims. He would pretend to be an attractive woman, targeting men who seemed affluent as well as older Australians who often had money sitting in the bank.
He would talk to them about their lives and what a great opportunity investing in crypto was. When the men he was talking to asked to video call, a model would take Rahim's place and chat with them.
When they seemed convinced, Rahim would hand them over to a supervisor who would extort money from them.
Rahim says he was forced to work from 8am to 8pm and had to eat food that went against his customs as a Muslim. He was told he needed to hook three people a day – or 21 a week. When he failed to meet targets he was beaten with a belt or computer keyboard.
"If I made a mistake on my job I was put in a dark room," he says. "I couldn't escape from the room. I wasn't allowed to eat anything for a week."
Rahim wanted to go home but his captors told him he needed to pay A$3,000 to leave – money he says he did not have and could not make.
After three months Rahim and another worker made contact with the Indonesian embassy and IJM, which helped evacuate them and nine other Indonesian nationals.
A broader problem
Traffickers force thousands of people from across Asia to work in online scam centres in a number of countries across the region, including Cambodia, Malaysia and Myanmar. Many victims are kept in old, empty casinos, surrounded by guards and run by crime syndicates that have links to the Cambodian elite, according to extensive reporting from local outlets such as VOD and Al Jazeera.
And the practice is on the rise. In August last year the US released its annual trafficking in-person report – Cambodia was downgraded to the worst level possible.
After Vitit Muntarbhorn, the UN special rapporteur, visited the country for 11 days on a special mission, he said thousands of people had been trafficked into the country to work as scammers.
"Countries are now waking up to the phenomenon and Cambodia needs to activate countermeasures more strongly, while welcoming international cooperation and support," he said.
Dan Halpin, the founder of private cybersecurity firm Cybertrace, says there is a noticeable increase in scams coming out of south-east Asia in comparison to traditional locations like Nigeria.
He says the methods used by traffickers to ensnare people are similar to those Rahim experienced. "The most common method currently appears to be a false promise of employment with an attractive wage, usually advertised through social media or messaging apps," he says.
The victim will often travel overseas, being picked up at the airport by their "employers", before having their documents and devices confiscated, he says.
"Workers who are uncooperative have reported experiencing severe physical abuse and are often sold from one scam operation to another.
"It's very common for victims of scams to be furious at those who have tricked them, not realising that their 'scammer' could also be a victim of an unmerciful multibillion-dollar industry."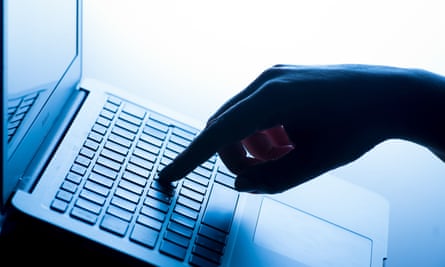 'We're worried about the scale of it'
As the trafficking increases, so does the cost of scams in Australia, with Scamwatch data showing over A$1m has been lost each day this year and a Australian Bureau of Statistics report into personal fraud showing that 65% of people received a scam offer or request in 2021-22, up from 55% in the previous year.
The Australian federal police have been working with counterparts across south-east Asia and are currently leading the development and delivery of the Cyber Safety Asia program, which provides cybercrime investigations training to law enforcement personnel across south-east Asia.
"Intelligence reveals that there [are] increased incidents of forced criminality of workers being trafficked to run online scams with links to serious transnational criminal networks," a spokesperson said.
"The AFP remains committed to working collaboratively with our south-east Asia partners on matters of joint interest and on targets impacting upon both countries, including combatting cybercrime."
Steve Baird, IJM Australia's chief executive officer, says the prosecution of the three Indonesian nationals this month sends a strong message.
"It's one of the first convictions we're aware of, so for [the main] perpetrator – who pulled Rahim in – to actually get a four-year sentence, it starts to send the message that you can't simply get away with this," Baird says.
"As long as there's impunity and they think they can get away with it, they will. So we need more and more of these convictions to really slow the whole thing down and set a precedent.
"We're worried about the scale of it. We know there are tens of thousands of people in the scamming centres. In the Australian context, you only need to chat to your family and friends to see just the prevalence of scams."
Rahim is now back with his family in Indonesia and has a job delivering water from home to home in his village on the island. He is trying to make life easier for his children.
"I hope I'll get a better job, I will work hard for my children," he says. "I hope to send them to school.
"I am thankful because many parties helped me so I can be released from such a situation. If not, I might never have come back to my family."