Luiza Kosykh claims she didn't know the 700-year-old tree she posed naked in front of was sacred. However, the viral shot captured by the Russian national in Bali was enough to infuriate the local community and resulted in her swift arrest and deportation.
The case is one of a growing number of incidents involving unruly visitors, as tensions between foreign influencers and locals on the Indonesian island reach boiling point.
Once known as a laid-back surfer's paradise, Bali has in recent years become a popular backdrop for "content creators" looking to promote their picture-perfect lifestyles. The streets of towns like Canggu and Ubud are now lined with aesthetically pleasing cafes and bohemian clothes stores seen as perfect settings for attracting Instagram and TikTok likes.
According to the local bureau of statistics, the number of foreign visitors entering Bali jumped to more than 300,000 every month at the start of 2023. The numbers were dominated by Australian nationals, as well as Indian and Russian tourists. A byproduct of the uptick in tourism has been more traffic, construction and pollution. These shifting dynamics, combined with a perceived lack of respect for Bali's Hindu culture and beliefs shown by some influencers, has prompted the local community to take action.
"Our hospitality has been taken for granted," Niluh Djelantik, a Balinese business owner and activist, told the Guardian.
Referring to a video of a foreigner riding a motorbike around Bali while standing on the seat, Djelantik says: "If you wouldn't do these things in your own country, don't do it in Bali.
"Don't blame us if we take action, don't blame us if we speak up, don't blame us if we stand up and … tell you it has to stop."
Short-term "business or tourism visas" that cost about 3m rupiahs (£162/$202) and allow foreigners to remain in the country for six months have served as a loophole for thousands of digital nomads who have made Bali home without paying taxes, adding to tension among some locals who feel the visitors are not contributing.
"A lot of people stay long-term without the right visa and they promote this remote lifestyle," says Rosie Lakusa, founder of Wings Canggu restaurant. The 29-year-old says the situation is complex and a symptom of mass tourism.
Examples of tourists coming under fire for their behaviour have increased. Russian influencer Alina Fazleeva was forced to undertake a cleansing ceremony before deportation after posing naked at a holy site in 2022. The same year, immigration officials stepped in after Canadian actor Jeffrey Craigen filmed himself performing the haka ceremonial dance naked at Bali's Mount Batur.
'Respect each other'
The behaviour of some foreigners has given rise to a number of vigilante social media pages that monitor influencers and bad "bules" – a term often used by Balinese to refer to western foreigners.
These sites share footage of reckless behaviour and identify foreigners who are working illegally, while calling on local authorities to take action. Such pages often have a large following and posts tend to be filled with comments from frustrated locals.
An official response to the bad behaviour was proposed by Bali's governor, Wayan Koster, last month, which included restricting tourists renting motorbikes.
As well as "disrespectful" behaviour, other frustrations have emerged as digital nomads multiply and work opportunities become competitive.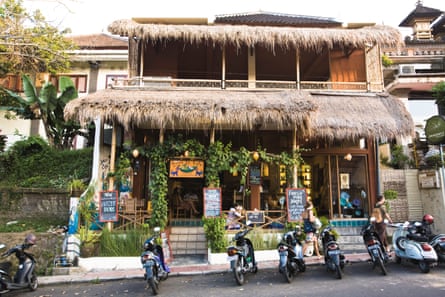 Ketut Widiartawan, 33, is the owner of Bali Green surf school and runs the popular Instagram account Northsidestory. In the past few years, he's seen competition stiffen among small businesses. "It's almost competing with locals," Ketut says in reference to foreigners who decide to take up work in Bali without the right paperwork.
"It's no problem if you make a business here, it's good that you employ locals," he added, "but some of them are not doing it in the right way."
As tourism makes up the largest part of Bali's GDP, officials have been forced to balance maintaining the island's allure while taking a hard line on bad behaviour. However, some feel tougher entry requirements are needed. "The government needs to step in," Djelantik says. "They need to wake up."
Despite tensions, Ketut stresses that the issues are confined to a small number of visitors. "Not all of the tourists coming here are like that. There are also so many nice people coming here and supporting local businesses."
Ketut called on locals and foreigners to "respect each other".
"I just hope that Bali isn't destroyed. There's so many new resorts all the time. Hopefully Bali doesn't lose its beauty and culture."
Lakusa too wants tourists to come to Bali to appreciate its "amazing culture and amazing nature … and learn about us".
"We're very nice people if you're nice to us. Bali is supposed to be laid back. Just live a simple life, don't complicate it."